Did you ever have an experience that made you feel like Alice tumbling through the looking glass?
If not, we're willing to be that you've never visited Camden. Calling this bizarre microcosm of rebellion, consumerism and creativity 'unique' is like calling a sunset 'quite pretty' – the words just don't do it justice.
Camden is one of the coolest places to hang out in London, with crazy street art sensibility and a musical heritage that goes back decades, from the Rolling Stones to Amy Winehouse.
If you're looking for Gucci handbags, you won't find them here. Come shopping for vegan hotdogs, steampunk goggles and an Iron Maiden tee, however, and Camden is yours.
Let's explore some of the best things to do in Camden!
Check out Cyberdog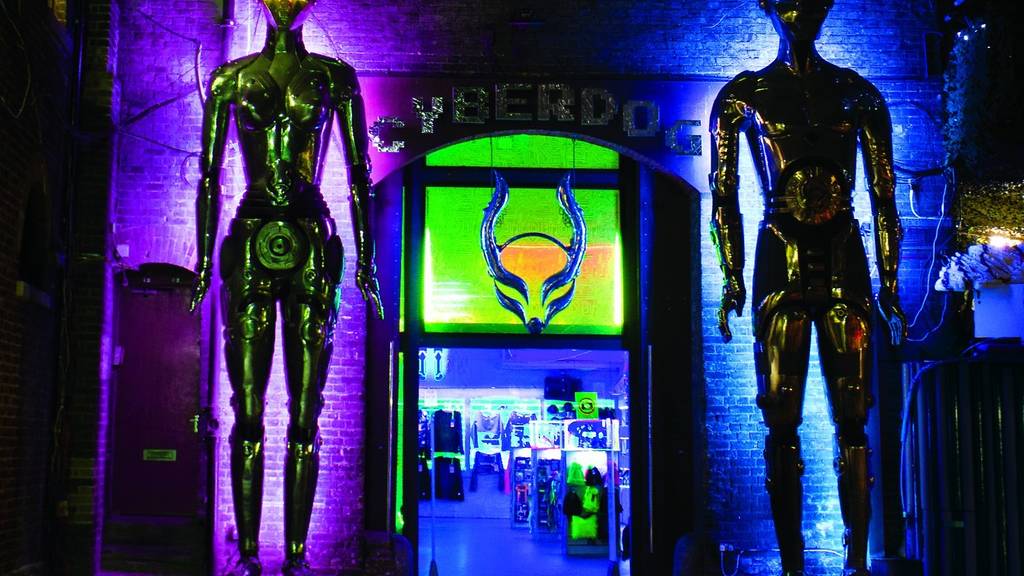 This singular fashion retailer sports three stories of future clothing, rave wear and cyber gadgetry that you won't find anywhere else. The next time you're starring in a dystopian cyberpunk music video, buy your outfit here.
Visit Amy
Amy Winehouse's bittersweet story is both Camden's pride and an icon of the seedy underbelly of the borough. It pays homage to artistic talents with a lifesize statue outside the Camden Stables. Make sure you drop by.
Gorge yourself on street food
Camden Market has over a thousand tiny retailers selling everything from quinoa to quilts. A big percentage of those are food stalls, which offer some of the best street food finds in the city.
Watch the performers at Camden Lock
…or in fact, anywhere throughout Camden. The town is famous for its performing artists, some of whom even go on to international acclaim. There's no shortage of music here.
Shop 'til you drop in the Camden stables
What used to be a horse hospital is now Camden's most interesting attraction. It's the place to come if you're looking for something specific, from Japanese manga figurines to handmade chandeliers. You'll find it here when you can't find it anywhere else.
Eat cheese at The Cheese Bar
The Cheese Bar sells cheese. Really good cheese. And lots of it. If you love to eat cheese, visit the Cheese Bar. They know their cheese.
Explore the street art
The streets of Camden are some of the most brightly coloured in the capital. As soon as you exit the tube, you'll immediately be struck by the vibrant designs of its storefronts and venues. It's worth spending time touring the streets and seeking out some of the best works.
See a gig at The Underworld
This legendary venue is the black, steely heart of rock and roll in London. Gigs here are frequent, raucous and loud affairs, but you can't visit Camden without seeing one.
Rave all night at Koko
If the day is done and you still have calories left to burn, don't hesitate before heading straight to KOKO. As one of London's favourite all-night club venues, it's our dancefloor of choice to while away the small hours. You'll know you've got the most out of Camden if you're still there to see the lights come on at 4 am.
For more fascinating ways to explore the city of London, take a look at our Small Group Tours. Whether heritage, culture or just plain fun is your reason for travelling, we can help you see the very best side of the city.